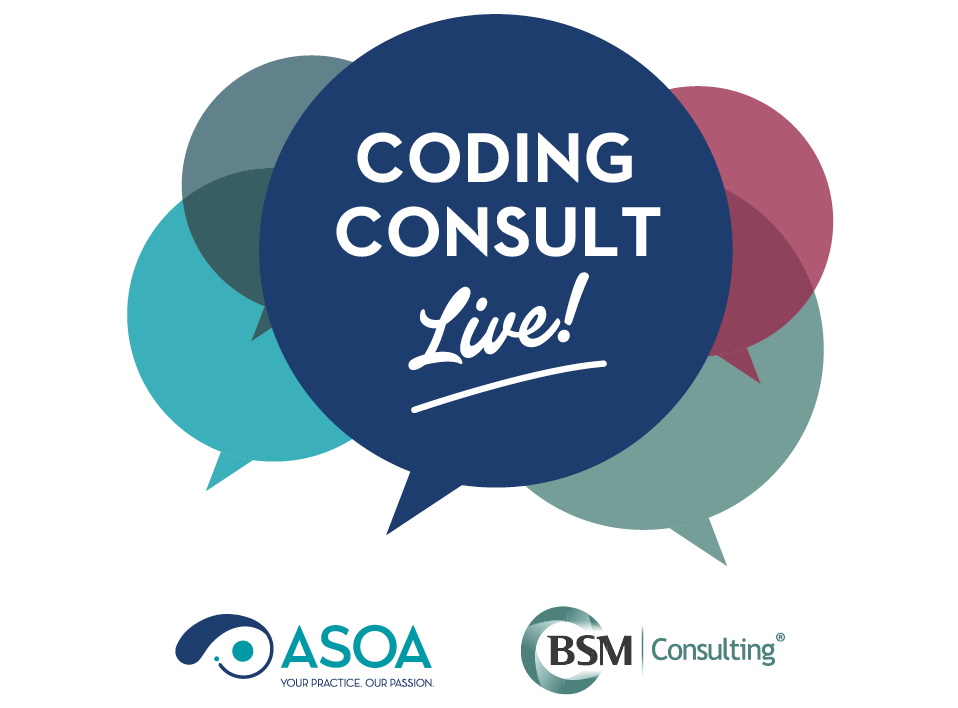 E/M Codes, Modifiers, Surgeries – Oh My! Ever wish you could have direct access to billing and coding subject matter experts to tackle your questions in real time?
Set your practice up for success by enrolling your team in a Coding Consult LIVE! workshop. ASOA, in partnership with BSM Consulting, is hosting live workshops in Orlando, FL, and Phoneix, AZ and will also offer a virtual 4-part workshop in early 2024. Join Kirk Mack, COMT, COE, CPC, CPMA, Senior Consultant, Billing, Coding & Compliance and Laurie Brown, MBA, COMT, COE, CPC, CPMA, LSSYP, Senior Consultant Billing Coding & Compliance with BSM Consulting for this informative educational activity.
Who should attend Coding Consult LIVE!? Ophthalmic assistants, administrative staff, administrators, technicians, technologists, billing staff, and physicians. Discounts are available for multiple attendees of the same practice.
The workshops will address important billing and coding issues which can directly impact your bottom line and promote successful reimbursement by providing training that includes coding, compliance, documentation, clinical practice guidelines and much more. Each session will present challenging scenarios that you might face in your own practice setting.
LIVE WORKSHOPS
In-person workshops are scheduled in the cities below and will take place from 10:00 am – 3:00 pm and include breaks, box lunch, and a workbook. Locations and dates:
Parking and sleeping room information for these live events will be available in the coming weeks.
VIRTUAL WORKSHOP
Can't attend in-person? We will also offer a 4-part workshop, via the Zoom platform.
MODULE 1
Tuesday, February 13, 2024

12 pm – 1:15 pm Eastern Time*
MODULE 2
Tuesday, February 20, 2024

12 pm – 12:30 pm Eastern Time*
MODULE 3
Tuesday, February 27, 2024

12 pm – 1:00 pm Eastern Time*
MODULE 4
Tuesday, March 5, 2024

12 pm – 1:15 pm Eastern Time*

*Please note, the times of the virtual modules are tentative and may change

LIVE AND VIRTUAL WORKSHOP PRICING:
$395 for the first attendee from the practice

$345 for each additional attendee from the same practice (please email codingconsultlive@asoa.org to receive the discounted rate for additional attendees)
Registration will open in October!