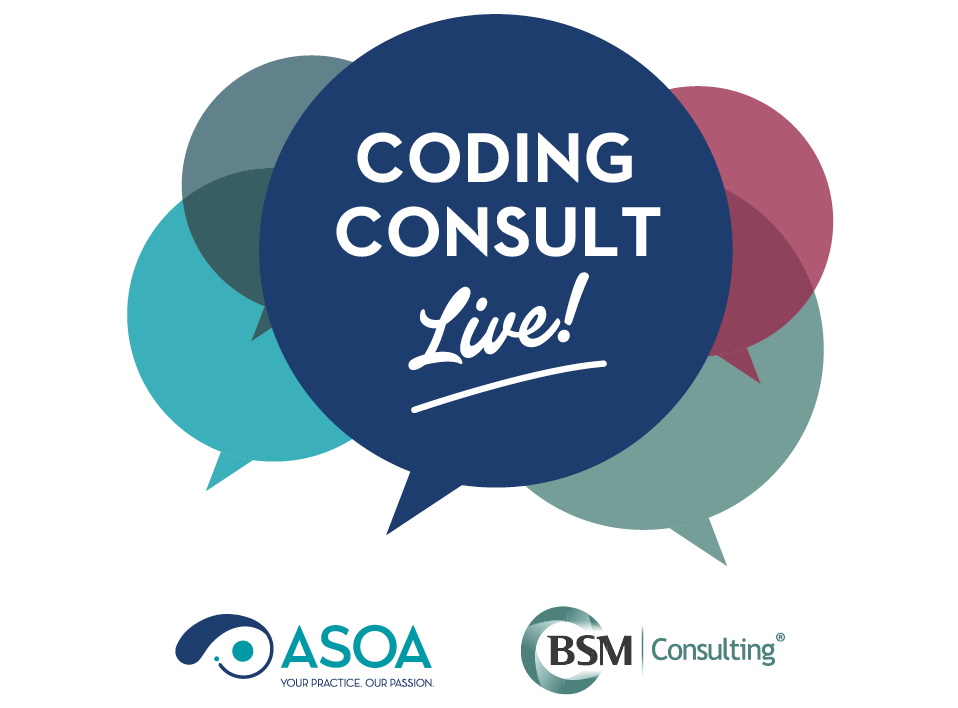 E/M Codes, Modifiers, Surgeries – Oh My! Ever wish you could have direct access to billing and coding subject matter experts to tackle your questions in real time?
ASOA is pleased to announce a new initiative in partnership with the billing and coding team at BSM Consulting. Coding Consult LIVE! is a series of in-person coding and billing workshops in 6 cities from January – March 2023. Join us for an informative day filled with interactive learning, knowledge polls, prizes, and a fun game to end the day!
As reimbursements continue to decline and staffing shortages necessitate cross training among current staff, accurate and consistent coding and billing becomes even more important. As part of your ASOA membership, you already receive the monthly "Coding Consult" newsletter which answers questions on a variety of coding and billing issues. Now, you and your staff have the opportunity to attend Coding Consult LIVE! and learn the nuts and bolts of coding in-person!
Who should attend Coding Consult LIVE!? Ophthalmic assistants, administrative staff, administrators, technicians, technologists, billing staff, and physicians.
Workshop Agenda
Module 1: What You Need to Know for the New Year!
Module 2: Diagnostic Testing Made Easy!
Module 3: Eliminating Confusion when Coding Office Visits!
Module 4: Surgeries, Modifiers, and More!
The workshop will wrap up with an interactive review of the key areas presented in the workshop.
This program has been accredited for 4.0 IJCAHPO credits.
This program has been approved for 4.0 credits by the American Academy of Professional Coders (AAPC)
Workshops will take place from 10:00 am – 3:00 pm and include breaks, box lunch, and a workbook. Locations and dates:
For parking and sleeping room information, please click here.
Pricing:
$395 for the first attendee from the practice
$345 for each additional attendee from the same practice (please email codingconsultlive@asoa.org to receive the discounted rate for additional attendees)
Registration is now open for all classes and class size is limited. Register today!